Profractional XC Laser
Regain your youthful glow with minimal downtime and discomfort.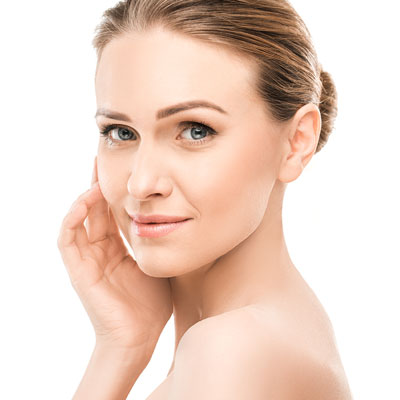 Profractional XC Laser
What do you see when you look in the mirror? Are the choices you made two decades ago rearing their heads now? Profractional XC Laser can smooth and refine your reflection and return your big grin. Laser skin resurfacing is very popular. The choices are many. Profractional XC Laser is one option that fits the modern lifestyle you've come to enjoy. Fine lines, wrinkles or the effects of sun worshipping in your 20s may be bringing you down. Scarring from acne or melasma from pregnancies calls for more cosmetic cover up than you'd prefer. Why not let your natural essence shine through?
What is Profractional XC Laser?
Most laser skin resurfacing treats a large or entire, surface of the skin. What is the issue with this technique? Good question as this was the method that has been used for years. What laser thought leaders and skin experts have found is that approaching resurfacing another way minimizes the risk of infection and scarring. It also speeds recovery. Besides, why treat a large area when there is a smaller area of concern? Enter Profractional XC Laser, a top choice of men and women here in Savannah.
Why would I consider Profractional XC Laser?
There are a few main reasons women and men choose Profractional XC Laser. Most people opt to treat the face and neck. But the hands, arms and decollete' are treated as well.
When you look at your overall skin which of these do you see?
Fine lines
Wrinkles
Vertical lip lines
Scarring from:

Surgery
Acne or other skin conditions
Accidents
Hypopigmented scarring: scars that are lighter in color than the surrounding skin
Uneven pigmentation
Melasma

From past pregnancies
Hereditary

Overall lackluster skin tone
Sun damage
How does Profractional XC Laser work?
Profractional XC Laser is brought to you by the trusted laser leaders of Sciton. This type of laser skin resurfacing ablates narrow-diameter channels into the skin covering a fraction of the total treatment area. This jump starts the body's own healing process. This process boosts collagen production which smooths the outer layers of the skin. Unlike full surface resurfacing, Profractional XC Laser resurfacing treats the area of concern only. This leaves the surrounding skin intact. It minimizes pain and downtime. During the procedure, treating the affected area only keeps the discomfort to a true minimum.
What can I expect with Profractional XC Laser Treatment?
To prepare your skin for treatment your skin will be cleaned thoroughly. It's best to arrive makeup and lotion-free for the area to be treated. We'll protect your peepers, too. Eye protection will be applied. During treatment with Profractional XC Laser you will feel slight tingling on the skin as the laser is applied. The sound will be similar to a snapping of rubber bands. We will treat only the areas of concern which helps your comfort and recovery. Most patients report minimal discomfort during their treatments. The process only takes about 30 minutes, although this will depend upon the area and severity of the treatment area.
After your treatment
The sensation patients describe after treatment is that of a sunburn - slight burning and a little redness. You can go back to your daily routine. This is one of the best parts of the Profractional XC Laser! You'll begin to notice a greater resilience in your skin, brightness and improvement in skin tone. Maximum results take effect in about 4 months from the first treatment.
Is Profractional XC Laser treatment the choice for me? See what the process really looks like then give us a call to schedule your private consultation to learn more.